Modul korisnosti (utility module)
Posebne funkcije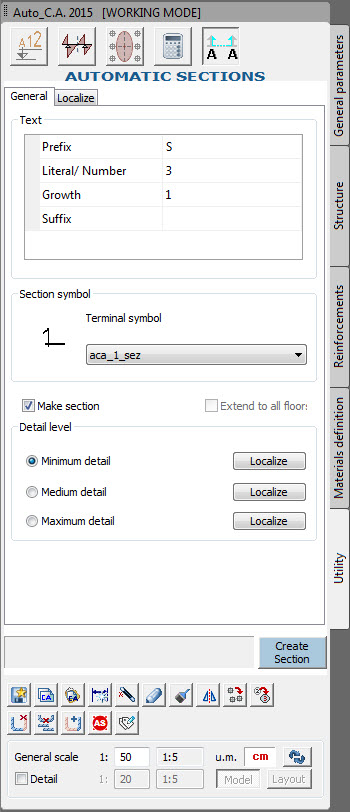 Računanje
Svi nacrtani elementi (kao npr. ukupne količine i količine opeke, stupova, šipki, betona, stremena…) mogu se točno izračunati, a zatim izvesti u Excel, čime se dobiva potrebna kompletna količina.
Automatski presjeci
Praćenjem "linije presjeka" na strukturnim elementima (kao što su podovi, grede, stupovi…) automatski će se generirati presjek s dimenzijama i imenima elemenata. Osim toga, pomicanjem položaja te crte u prostoru, presjek i cijeli crtež će se automatski mijenjati i ažurirati. Napokon, takožer se može odabrati i personalizirati potrebna razina izgleda detalja.
Elipsa krutosti (provjera krutosti zgrade)
Aplikacija može biti korisna za utvrđivanje točnog pozicioniranja vertikalnih elemenata prema vanjskim horizontalnim silama (poput vjetra ili seizmičkih učinaka); prati elipsu krutosti i izračunava potrebne parametre iz Eurokoda 8, za ocjenu ispravnosti građevine.
Tekst i simboli s brojačemText and Symbols with numerator
Funkcije za dovršetak izgleda s potrebnim simbolima i mjerama, naznačujući presjeke linija, automatske tekstove i numeraciju, altimetriju (mjerenje visine), dimenzioniranje i brzu numeraciju elemenata.